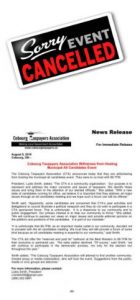 The all candidates event was to be held on Wednesday, October 10, 2018 but has been cancelled. The Cobourg Taxpayers Association issued a press release this morning.
As we stated in the release, we believe it is important to get the issues out and to see where the candidates stand. To that end, we will be preparing a questionnaire for our candidates and posting their replies on our website. We are working on this now.
Please send us your questions for inclusion in the questionnaire. It will help all of us to be better informed when we vote. You can send questions to questions@cobourgtaxpayers
Stay tuned for more news and information.