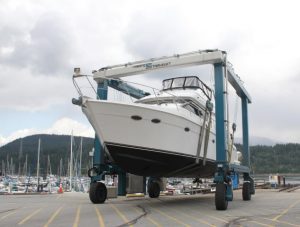 10/24/2016 UPDATE:
Photos of how the current boat lift is done can be found here: PHOTOS
10/25/2016 UPDATE:
A total of 38 boats were lifted out of the water this fall. The crane comes from Belleville and the Land-Tug from Trenton. The Belleville Yacht Club and the Whitby Marina both use the same system…rent a crane and a yard trailer.
Claims are made that Cobourg needs a Travel Lift to be competitive with other marinas such as Belleville, Newcastle and Whitby. The major differences are: Newcastle and Belleville are privately owned, and all three have boat works that provide much of the Travel Lift usage. The Whitby Marina lifts about 400 boats per season. Cobourg lifts about 40 boats per season.
The new 360+ slip marina at Trenton has neither a Travel Lift or winter storage.
The Cobourg Taxpayers Association (CTA) is opposed to the expenditure of $645,000 ($45K for the design and construction of the Travel Lift well plus $600,000 for the actual Travel Lift). Taxpayers should not be subsidizing 45 boaters.
Bryan Lambert presented his analysis of the proposed Travel Lift as a concerned Cobourg resident and taxpayer. He presented the financial numbers on how non‐viable and financially irresponsible this expenditure is. Here are some of the key highlights:
The Travel Lift cost alone is $600,000. A 3% 10‐year loan costs $5,794/month, $69,528/year.
Assuming operating cost for wages, insurance, maintenance, and fuel is $15,000/year.
Therefore $84,500/year is needed to service the 10 year loan.
On the revenue side, based on rates in Whitby, lift in and out for a 35 foot boat is $550.
154 boats would be needed to generate the $84,500 needed to service a 10 year loan.
In the spring of 2016, 45 boats were lifted out of the water.
Assuming 45 boats, the launch/haul‐out fee would have to be $1,878/boat to service the 10 year loan.
The full presentation can be found here: Budget Consultation Meeting
Dennis Nabieszko submitted the following as a private citizen:
Please don't approve the Travel Lift as a budget item.
In talking with my neighbours, friends, and local businesses, there was not one person that supported the purchase of a Travel Lift. This is a significant expenditure and cost to local taxpayers, especially to those on fixed incomes. One of the arguments for this purchase is the safety of the current method using volunteers. If that is the case, professionals should be used and the boaters should be paying for it. This Travel Lift only benefits a few well off people and not the retiree or the single mother struggling to make ends meet.
The entire email can be found here: Do not Approve the Travel Lift
You too can make a difference and show your opposition by emailing or calling the Mayor or Councillors. Contact information can be found here.