75 Upset Taxpayers Protest the Town Tax Increase of 2.7%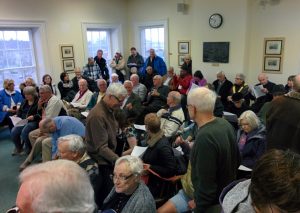 A capacity crowd of upset taxpayers packed the Council chambers to watch as the 2016 tax budget was passed with virtually no changes since the March 31, 2016 budget meeting. Prior to the meeting, 75 people protested the tax increase outside of Victoria Hall. It was a noisy but peaceful rally that showed people are upset about these tax increases and they wanted to let the Mayor and Councillors know it.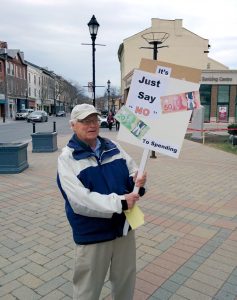 It took 6 months to finalize the budget and Council was only able to cut $3,500 from the March 31, 2016 budget meeting. Shameful! $3,500 for conference expenses was removed from the operating expenses because we are 4 months into the year and it is unlikely to be spent. Since the budget is so late in being approved, how many more expenses could have been identified and removed from the budget? Taxpayers will never know. Council has no idea how much has been spent year to date because they do not review town spending on a monthly basis. When Council receives the actual spending, they receive it "for information purposes only". Council does not review spending, manage the spending, or put actions in place to reduce over spending. This raises the question of what the budget is really for. The budget is prepared to determine the tax levy, not to manage town spending. When the town needs more money (and it always does), they just reach into the pockets of taxpayers to pay for it.
It was obvious the Mayor was trying to explain, rationalize, and justify the budget being passed. He also tried to deflect the 20% increase in taxes for 2017.
Mr. Mayor, these are your numbers. You spend 6 months preparing them, publish them, and then ask the citizens to ignore them. If we cannot trust your published 2017 numbers, how can we trust your 2016 numbers? . (Source: Capital and Operating Budget Motion 2016)
A high point came from the Committee of the Whole meeting when the Bicycle Action Committee were asking the council for money. Councillor Darling said, "I think a lot of people at the back of the room would want to know if you have considered doing any fundraising on your own". The presenters looked quite startled to be asked to consider such an outrageous idea. The culture is changing and Councillors are starting to listen to the citizens.